My theme for this year's Blogging from A to Z April Challenge is A-Z of a Working Mother. Today, B is for Beauty Regime.
While looking around for the letter B, I got hold of this picture and said Voila! One things that also goes out of a window for a mother is her beauty routine! So B stood of Beauty Regime of a Mother 🙂
                                                                                                                                                  Picture Credit : pinterest.com
The 7 ways in which your Beauty Regime changes post motherhood :
Washing Hair and Conditioning becomes an over kill.

You quietly sneak into the flats section at a footwear shop. Of course, silently staring at those sexy stilettos!

A Messy bun is the favorite Hairstyle now. Oh! Messy is IN, isn't it?

Blow dry .. what's dat?

Your nail paints are all dry. First you don't have time and last you don't have nails 🙂

A razor finally becomes your friend!

Washing face at night is the only beauty tip you can use.
In an ode to all mommies, Let's observe a two minute silence to remember what all has gone out of our closet and daily routine! 😀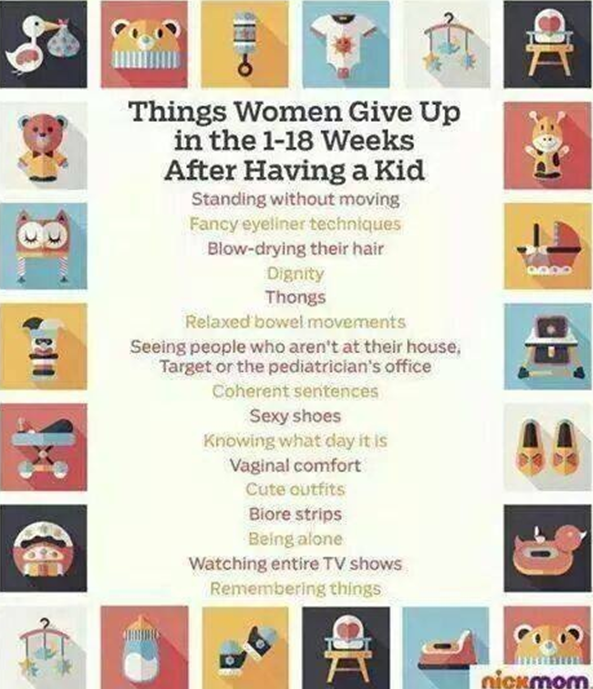 Still wondering what makes us glow, after all this?
The unconditional love and kisses of our lil ones!
Do share your tales of the changes motherhood introduced into your daily beauty routine! Till then , Happy Mommying everyone! 🙂
(Visited 595 times, 1 visits today)