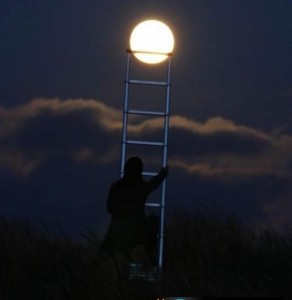 U know, sometimes I feel I am not made for a 9 to 6 job. I have something in me. I know I am made for better things.  I want to open my own fashion line! Everybody says I am bloody good at it!
C'mon Priya! Not now. Can we  please finish grocery shopping first? We are already running late. Dheeraj, yaar I am not kidding. I really feel I should do this.
Okay.. so why don't you just do it then?
How can I, Dheeraj? How can I leave my job? How can we sustain on a single salary? How would we manage the lifestyle we have with a single income? Hmm.. We'll.. lets just get the groceries for now! I am an idiot!
How many times have you encountered situations like this? Sometimes these conversations end up in a good laughter or sometimes in anguish.
In our lives, we have become habitual of the customary things we do,  that  some ideas really sound far fetched.  Or Moonshots as they say.
Moonshot ? 
If you are unaware of the term "moonshot thinking" then please see this.  Google has also launched "Solve for X initiative" which encourages moonshot thinking. They shared an interesting fact – "10X Is Easier Than 10 Percent".
When I map it  to our lives then looking for some(%) increase in your salary is the "10 percent" you are trying to aim. Why don't we aim for the "10X"?
Sometime back, at work we were discussing the moonshot for our product. I kept wondering what's "my" moonshot? Do I have a moonshot? Which led me to think, how many of us really have our moonshots?
Few of us don't even know if we want something. In case we know, some never come out in open and moonshots die a silent death. Some discuss and get laughed at . Remaining one's die in due course of time. We think that audacious innovations are for bigger companies or greater people and not for mere commoners like us.
Dreams don't cost a thing!
The first step to make big in life is to "dream big." This is the most critical part I see.  Often we are unable go past this step. Sometimes we have a dream but don't take it seriously. Say – "its stupid of me to think like this!".  Cause dreams are non achievable!
When the mission of landing on moon  started, many thought it was crazy, bizarre!  No one believed that one day we would. Who thought that a simple social wall would grow leaps and bounds? At the start of it, these ideas were insane to talk about.  But people believed in it, so they succeeded.
You fail or succeed is another facet of the story but at least you should have some dream that keeps you going. Some silly thing that excites you.  Life is too short to sit back and wait for things to happen to you. We might be constrained by several factors in our lives. Be it money, time, responsibilities etc. But once you stand up to break all odds, things do fall in place.
Above all, even if it does not, at least you are spared forever from the regret of not trying after all.
The worst thing to experience is "regret". Its better to succeed or fail than sitting and anticipating how your life would have turned, had you done it.
Wisdom uninterrupted ..
Nobody actually knew how to build an airplane till it was done. We always appreciate the courage and audacity of a moonshot, once accomplished. But we lack the habit of appreciating moonshots-in-progress.  It takes a while and lot of perseverance before a moonshot starts showing its effects.
If we look back at the great things of recent times, all started with a stupid idea. Nobody could have imagined these ideas would make such a difference.  But today we all call them "innovations". It was just a single man's head that did the wonder. Only the belief that it was silly but not impossible gave us Facebook, Dropbox, Twitter etc..
Its aptly phrased, "You are alive if you are dreaming".
When did you dream about something and laughed saying "silly me"?
(Visited 320 times, 1 visits today)