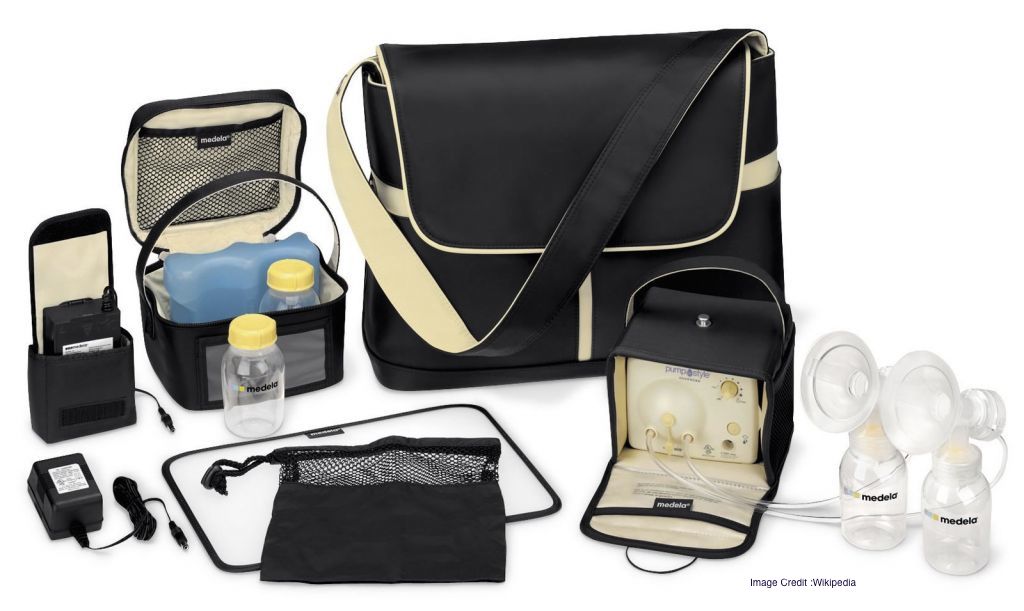 Welcome to the next instalment in the pumping Moms series. Incase you missed the earlier one, read here. So once you decide to be a pumping mother, how to go about it?
Once you decide to pump and feed you would need the following equipments in place :
1. A breast pump.
2.  Storage containers.
3. Bottles
4. Sterilizer
5. Apron
In this post, my focus is only on breast pumps.
Babies have the natural art of suckling at your breasts. And it is this suckling that signals your body to get into preparing more milk.Once you decide to pump and feed your baby this suckling is replicated by the manual/electric action of your breast pump.
What are the different types of pumps?
There are broadly two types – Manual and Electric
Manual pump is driven by the manual action of your hand. Just like you press your breasts with your hands. This type of pump is suited for intermittent use. Pumping with manual pump is slow and laborious.
Electric pumps have a motor attached. They are further divided on how you provide the suckling action or cycle speed. It can be manually operated through a lever or you can go for a full automatic one.  In the automatic variant you can simply set the cycle speed and intensity of suction.
When should I use a manual pump?
If you plan to pump only at certain occasions then stick to manual pumps. They are cheaper and portable.
When to go for electric pumps?
For all exclusive pumping moms, an electric pumps is a necessity. To further ease the effort  and save time you can even go for a double breast pump.
Which brands to go for in manual pumps?
Manual pumps are used sparingly. I wont suggest investing a good amount there. Brands like Pigeon, Avent and Chicco can easily suffice. Instead of a total manual pump, go for the one which has an electric motor attached. I used this one. The suction had to be maintained by pressing the lever each time. I did not personally like this much. With the manual action, it becomes all the more laborious and tiring.
Which brand to look for in electric pumps?
For exclusive pumping moms, electric pumps are a boon. Choosing the right one is important. If you search online the range for these pumps go as high as 25000. But no need to spend that much. You can look for single breast or double breast pumps from Pigeon , Avent, Chicco. They are no so hard on your pocket and totally suffice the need.
I personally used a pigeon single breast pump. The parts are sturdy. Easy to clean. And not so expensive.  From my personal experience I would suggest moms to go for double breast electric pumps. Initially, sequential pumping doesn't look so hard. But as months go by, you wish to reduce this time. Save on the time with double breast pumps and rather spend that giggling with your lil one!
The second favorite of mine and higher on price is Avent double breast pump. I have an inclination for Avent products. They have great quality. For people who can spend within 10-20 k price range, this is the best deal.
And yes, do check if your pump can be operated with batteries as well. Its a need when you are travelling!
Hope this post is able to answer your queries on breast pumps. In case you have some more questions, drop me a word.
  Previously Posted at
IndianMomsConnect
.
(Visited 634 times, 1 visits today)