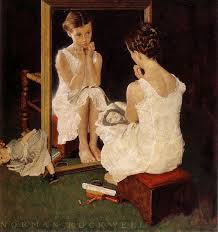 You are all set for the evening. That favourite dress, stilletos.. and some make up is just perfect. You look at yourself, smile and leave. Lots of butterflies of excitement that awaits. You are eager and look forward to the reactions. As you enter, your smile suddenly refuses to keep up. This all so perfect evening is diluted as your eyes are juggling to hold that tear from falling. Your excitement is brutally killed and now you wish this moment never occurred. And how hard you wish to rollback this event in time. You see another lady in your favorite dress as well! 🙂
Gosh! The hell breaks loose and all you want to do is get rid of this "all so favorite dress of yours" . And even better..vanish in snap of your finger.
I am sure we all have come across such a situation, atleast once, in our lives. I say atleast once, cause I am a victim twice :). In case you are unable to relate to the story I just told, one lucky soul you are!
Its not us.. even the poor celebrities are in news now and then for wearing same dresses, sounding like a fashion faux pas! The two encounters I had, brought up myriad reactions. And this made me think "What if we wore same to same" ?
The first time hell actually broke loose! The second time I was better rehearsed. But maybe it was the other girl's first! I wanted to go and greet her – "Hey girl good choice! I like this label as well".. But she kept herself literally away. And to add to our "misery" (as others call it!).. our friends had good fun.. phew!
If two people are wearing a same outfit, does that mean that they have a very "common choice"? I refute that coz then I would expect more than 50 % people wearing this same dress. Secondly I dont have that a common choice 😉
I think the clothes we wear are part of how we project our personalilties. If you are nicely dressed, people call you a person of good taste. By coming across a person in similar outfit, do we see our individualism in danger? While buying clothes we look for designs, colors, materials which are different or have an edge over others. So when we see the "carbon copy" in front of us, this myth is smashed into pieces. It takes a while, to digest that this different design is no longer unique, to mend your bruised ego. Reactions like avoiding an eye contact, leaving the place, are all part of retaliation to this fact.
I can see three ways to survive a 'Same to Same' phenomenon :
1. Fight : See this.
2. Flight : This is a lot sober a reaction than fight. If you cant handle your heart break then you should move away from the scene and think it was just a BAD dream!
3. Kodak Moment :  Click a picture together to remember the "happy" co incidence of sharing a dress with a soul on this earth. And it takes great amount of confidence or high number of such encounters to do this. 🙂
It is said, An idea is a good idea if you can convince someone else about it. So, let your soul rest in peace with the fact that your choice is a fantastic one if you spot someone.. Same to Same! 🙂
(Visited 92 times, 1 visits today)